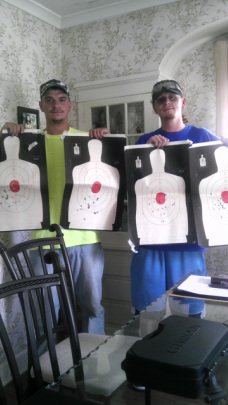 The Basic Pistol Shooting Course Phase Two teaches the basic knowledge, skill and attitude for owning and operating a firearm safely. This course is 6 hours class time and 2 hours range time,Including learning to shoot semi-automatic pistols and revolvers.

Students learn NRA's rules for safe gun handling, shooting fundamentals, range rules, shooting from a bench rest position, weaver position. Students also learn Ohio Carry Concealed Laws and a chance to obtain continued opportunities for skilled development.

This course is offered by a Certified NRA Instructor with certification in Pistol, Home Firearm Safety,Personal Protection in the Home and Certified Rifle. And years of experience in the field, Course instructor is registered with Lake County, Geauga County and Cuyahoga County Sherriff Departments.

The course is comprised of 6 hours of class time and 2 hours on the range. Classes and several events are held throughout the year. Each class is two days long and four hours per day.

Firearms training is only the beginning
We believe in providing our cleveland concealed carry course students with a well-rounded experience when taking a firearms class. Topics will include:
Reciprocity students will know which states recognize their CCW permit as valid so they remain in compliance with state and local laws.
TSA and airline regulations our instructors will teach you about regulations regarding air travel with your firearm.

We offer discounts to military personnel and seniors

Those serving in the armed forces receive a 10 percent discount on their class fee with valid ID, and seniors 65 and older receive a 15 percent discount. The Academy also offers discounted group rates for up to four people, and also gives discounts for those referred by former students.

Exercising your right to posses and use a firearm is guaranteed under the Second Amendment, but it also means increased responsibilities especially when applying for concealed carry. The Armed Defense Academy is here to ensure that you are prepared both in skills and knowledge to use your firearm in a safe, appropriate manner.
---